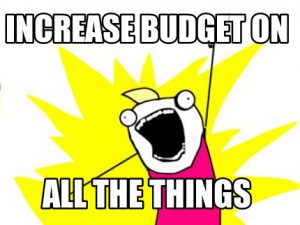 The much-respected law firm management consultancy BTI reports that 33 percent of law firms recently surveyed will increase their Marketing and Business Development (MBD) budgets for 2019 –
that is three times more firms than last year, and the largest number of firms increasing their MBD spend in nine years.
These firms may be making their investment at an incredibly opportune time as explained more fully below.
A key question, of course, is in what activities a firm should invest for the greatest return.  Alyn-Weiss & Associates has just completed its latest bi-annual National Marketing Effectiveness Survey outlining what tactics work best for bringing in new clients and generating referrals to mid-size business and defense law firms.
The Alyn-Weiss survey of 117 firms reveals the most effective tactics, as well as the percentage of firms reporting they have tracked new clients and referrals back to those tactics over the past 24 months.
The top tactics are:
*             Websites 74%
*             Seminars, presentations, speeches 64%
*             Law firm networks 57%
*             Trade and community groups 44%
*             Search optimization 35%
*             Entertainment 29%
"The mix of tactics here, in addition to firm culture and target market, are crucial for law firms to seriously consider when implementing their marketing strategy," says Amber Vincent, an Alyn-Weiss shareholder.  "We execute marketing plans and strategy for law firms everyday, focused on blending traditional and digital marketing initiatives — all of which are reportedly working for firms based on these results."
She also points out that a study from Thomson Reuters Legal Executive Institute revealed firms showing overall revenue and per partner profit growth were those which also report investing more in business development, generally group training and individual lawyer coaching.  Just over half of firms surveyed by Alyn-Weiss report they offer both coaching and group training.
Increased investment in MBD may just give firms an unprecedented edge in 2019.  The reason: their increased MBD budgets may be timed perfectly to bring the biggest returns in a generation.
BTI has determined corporate clients have moved a giant chunk of their legal budgets back to outside counsel for the second year in a row in litigation.  "We will see the same increases across most legal spending when we release our BTI Practice Outlook 2019 next week.  This increase in spending is a gift.  The law firms able to capture this new spending put themselves in a position to reap the benefits for years," Michael Rynowecer, BTI president says.
Overall, the typical law firm (all 136 firms BTI surveyed were in the largest 500 firms category while Alyn-Weiss' were outside the 500 largest) are targeting 2.76% of their revenue for marketing and business development in 2019 up from 2.63% this year.  The Am Law 100 is targeting 2.67% of revenue, while the Am Law 101-200 targets 2.71%.  Law firms outside the Am Law 200 are planning to spend 2.86% of their revenue on MBD.  Firms in the Alyn-Weiss survey said they had spent just 1.9 percent of revenue on MBD in 2018.
The amount of new client spending on outside counsel dwarfs the increases firms are making to their MBD budgets.
"One-third of law firms have already figured this out," Rynowecer said adding, "There's still time to rethink your firm's budget".